Does the country have enough qualified machinists to replace the aging workforce?
With more manufacturing companies reshoring back to the United States plus an aging manufacturing workforce, the industry may be facing a shortage of skilled and trained machinists to hold positions left by retiring workers.
The retiring workforce in manufacturing plants are in dire need of
young skilled talents to take over their positions.
Lack Of Qualified And Skilled Workers
This is a concern shared by many manufacturing companies in different states in the country. In Massachusetts, according to Joana Mateus of the Bristol Workforce Investment Board (WIB), they had been told by employers in the region for the last three to four years that there was a lack of qualified machinists to fill the job openings in their facilities vacated by retiring workers.
A recent report from Boston Consulting Group said that there will be a shortage of 875,000 welders, industrial engineers, machinists and industrial-machinery mechanics by 2020. And according to a Skills Gap Survey conducted recently by the Manufacturing Institute, over half a million jobs are unfilled nationally because there aren't enough qualified workers.
High Demand For Skilled Workers
This data clearly shows an alarmingly high demand for workers with skills in welding, machining, pipe-fitting, and other industrial-based expertise. And the educational institutions recognize the skills gap and are doing their bit by encouraging high school students who show an interest in building and making things to be willing to get their hands dirty and look at the possibility of landing high-paying manufacturing-based job positions in the future. Many schools, colleges and universities have implemented programs into their curriculum that address developing and honing such skills.
The lack of workers with skills in welding, machining, pipe-fitting, etc. is the main problem faced by many manufacturing companies throughout the country.
How Ohio Addresses The Skills Gap Problem
Ohio is doing its part and has some terrific examples of what other states in the country need to be doing to address this problem. A heavy equipment lab at the Warren County Career Center has a mock construction site teaching students how to operate a range of machinery from high-tech machines to backhoes and bulldozers.
Licking County, also located in Ohio has established the Career and Technology Education Centers to teach students high-tech manufacturing skills in robotics and welding.
Cuyahoga Community College In Cleveland
Local companies in Cleveland such as ArcelorMittal and Swagelok Co, have collaborated with Cuyahoga Community College and other schools to create and set up programs to train workers for a specific skills set required in most manufacturing job positions.
An instructor at the Cuyahoga Community College teaches a student about machining processes as part of the training to become CNC operators.
Ivy Tech Community College In Indiana
In Indiana, the demand and opportunities to work at CNC milling companies is growing, with 184 job positions for CNC operators across northeast Indiana. And to meet the job skill needs of manufacturers, Ivy Tech Community College has recently unveiled a certification program for Computer Numerical Control (CNC) operators, according to Cathy Maxwell, Ivy Tech's Academic Affairs' vice chancellor.
Ivy Tech has built new classrooms and machine centers at the north campus for students enrolling in the program. Completion of the program will certify students as CNC machine operators through the NIMS (National incident Management System).
Manufacturers visit the advanced manufacturing lab facilities
built by Ivy Tech for students enrolling in their new
CNC certification program.
Gallatin College In Montana
Gallatin College, based in Montana State University is starting a new 1-year program to train CNC machine operators in Bozeman. The 1-year training program is set to start August 25 and the college is trying to get the word out to the students to sign up. Students who complete the program will learn CNC terminology including:
How to set up the equipment
How to program and operate the CNC machines
How to read blueprints
Troubleshooting skills
Computer-aided design
Safety laws, quality assurance, inspection, measuring and local manufacturing regulations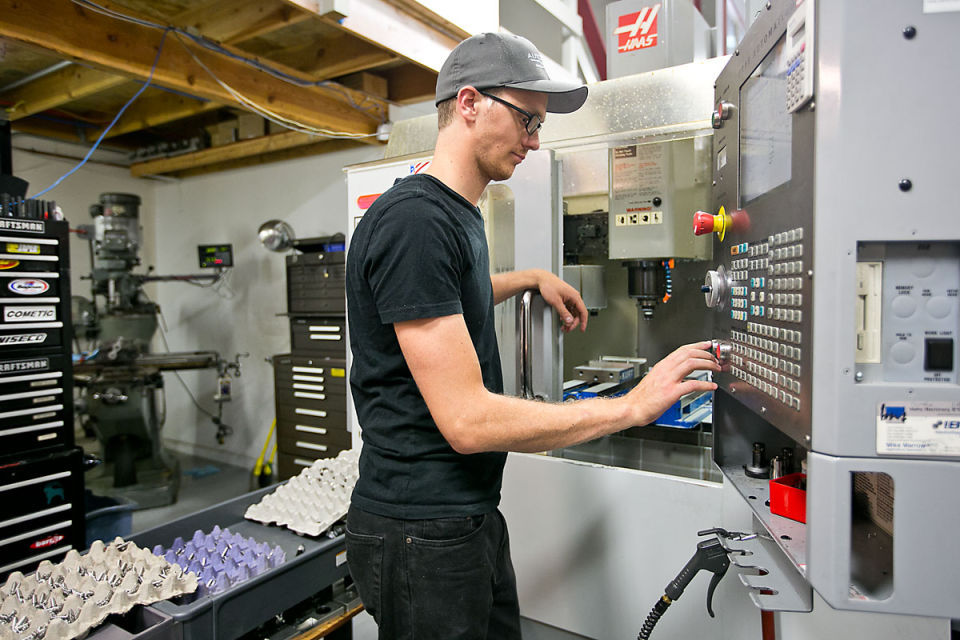 Machine operators with the right education, skills and training can easily land highly in-demand and high-paying jobs anywhere in the country.
Bridging And Closing The Skills Gap
All these concerted and collaborative efforts amongst manufacturers, employers and educators will hopefully bridge and close the skills gap that is currently faced by the country's manufacturing industry.
The next question is, will there be enough students interested to pursue a manufacturing-based career?